Back to Posts
[Guide] Selling Custom POD Leggings
UPDATED: January 2023
Gone are the days of leggings existing solely as athletic apparel. Over the last several years, the athleisure apparel industry has exploded, propelling leggings to become a wardrobe staple. Leggings aren't only worn during workouts anymore; they're now a go-to apparel item for those looking for a comfortable alternative to traditional slacks. 
From sleek stylish designs to pair with a solid blouse, to bright patterns for standing out at the gym & holiday themed designs like Halloween skeleton legs or festive Christmas prints, leggings are a product for any season. 
Product Details:
Base Price: $24.00

CC Lite Price

:

$28.80

Shipping Category: Lightweight

Suggested Sale Price: $39.99

Sublimated printing with cut & sew assembly for a high quality all-over-print

Printed & Constructed in the USA

Moisture-Wicking material (88% Polyester + 12% Spandex)

Customizable 1.5" printed waist-band

Machine wash gentle/Hand wash cold; Line Dry

Available in sizes XS-XL
Design Positioning Presets:
When creating custom Leggings, you can use any of our Design Positioning Presets, but they each have their own advantages. 
***Note: Designs meant to line up at the seams are not recommended due to seam allowance requirements. Slight variance in vertical design positioning between  fabric panels may occur.
Full:
Select the "Full Front" design position if you've used our art template to create a design specifically for this product. As you can see, the design will display perfectly on the leggings mockup below as the design was created to the art template's specifications. To check your design against the art template, select "Designer View." If you've created your art properly, your design should be able to be positioned to extend to the red border of the art board behind your image.
Custom: 
Using the "Custom" design position gives you full control over the placement of your artwork on your product. Use this setting if you would like to resize or reposition your design on your product or if you'd like your design printed on only one side of your leggings. In the example below, we've uploaded a photo that is not designed to the specification of our leggings Art Template, but stretched it to fill the full bleed area. This will ensure no white unprinted areas will remain on our final product.
How to Use the Leggings Art Template: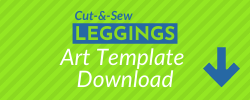 If you're creating artwork you'd like to be printed from edge to edge or would like different designs on the left & right legs of your leggings, make sure you're using our Leggings Art Template to create the perfect size & resolution design. The safe area will differ based on the leggings size — to ensure all sizes print the way you'd like, please keep all important parts of your design within the smallest safe area. Always fill the entire bleed area to ensure no white unprinted areas remain on your design. Failure to design in the proper dimensions may result in unprinted areas on your final product or your design being cut off during the sewing process.  
To use our Leggings Art Template in Photoshop, use the following process:
Open the Template in Photoshop

Go to File > Open file & select your design

Adjust your design so it's aligned properly.

Turn down the opacity on your design layers (temporarily) to ensure all important design elements are within the designated "Safe Area." Once you've finalized your design positioning, turn the design's opacity back up to 100%.

When you are ready to save your file. Turn off the template layer by clicking the eye icon.

Go to File > Save As, select PNG. Click 'Save'.
Product Marketing:
CustomCat's All-Over-Print leggings are constructed from a high-quality polyester spandex material to ensure vibrant prints & the perfect fit. With a 4-way stretch moisture-wicking fabric, your customers will be comfortable whether they're at the gym, running errands, or just lounging around the house. It's safe to say that everyone will be asking your customers where they got these beautiful leggings!
Target Market Audiences:
Leggings are primarily marketed toward women, though they're also popular choices among men when considering apparel for exercise or costumes. The audience for this product skews younger — generally between the ages of 18 & 35 — however, those in the fitness community are likely to wear leggings no matter their age or gender. 
Remember that even if you're selling to an audience that may be less likely to purchase leggings for themselves, they may be inclined to order leggings for a spouse or loved one if the design theme is in the same niche. 
Design Ideas:
Bright Patterns

Geometric Designs

Floral

Camo Prints

Food-Themed Designs

Coffee

Space & Astronomy

Pet Prints

Animal Print

Tropical Designs

Patriotic Prints

Halloween Costume Bottoms

Holiday Themed Designs