Getting Started is as Easy as 1-2-3
Upload Designs & Choose Products
Quickly create products to sell on the web.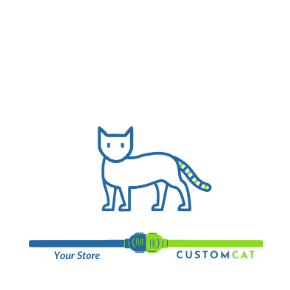 Connect Your Store to Start Selling
Easily integrate with CustomCat fulfillment.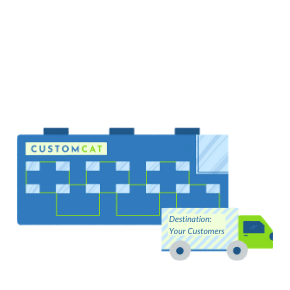 We Print & Ship to Your Customers
We do the rest. No inventory & no hassle!
Frequently Asked Questions
Which integration is best for me?

For Beginners: Both Etsy & Shopify are wonderful integrations for beginners. With Etsy, you can instantly connect with a massive global marketplace without creating a website. Shopify grants you more customization, is easy to set up, & links to your website directly.

For Intermediate Sellers: Intermediate sellers love Shopify, WooCommerce, & Etsy. Etsy allows you access to an online global marketplace where you can use your SEO skills to get your listings noticed. If you're hosting your own website, Shopify grants more customization options, but still offers simple themes & plugins for your online store. WooCommerce is a highly customizable plugin for your WordPress site that allows you to tweak nearly everything about your customers' shopping experience.

For Experts: Take your pick. Your selection should be based on whether you're looking for an online marketplace, a simple Ecommerce store, or a fully customized experience for your customers. For instant access to a powerful global marketplace, choose Etsy. If you're opening an Ecommerce store on your website, Shopify is easy to set up quickly. For more customization in the look & feel of your ecommerce store on your WordPress site, you may prefer WooCommerce. If you want a little bit of everything, BigCommerce might be perfect for you — from BigCommerce, you can sell on your store & online marketplaces like Facebook & Etsy without losing out on full customization of your online store. The most customizable of all? CustomCat API. Keep in mind that in order to connect to the CustomCat API, you will need to hire a software developer.

For more information about each integration, click the links above for details.

Is there any cost to integrate my store with CustomCat?

Most of our integrations are totally free, with access to unrivaled low prices for all items in our catalog.

Our Shopify users have both a paid & free option. CustomCatLite Shopify users may want to consider upgrading their accounts if they sell more than 15 items per month, as each item in our catalog is $2 more for these users.

Can CustomCat fulfill my orders if I don't integrate my store?

Absolutely! If you'd prefer not to integrate CustomCat with your app for real-time order processing, you have 2 options for direct order fulfillment. You can use our manual order feature to place orders from your CustomCat dashboard OR submit a CSV file directly through your CustomCat app.