Print-On-Demand Decoration Methods
DIGISOFT™
With similarities to both DTG (Direct-to-Garment) & DTF (Direct-to-Film) print processes, DIGISOFT™ solves the deficiencies of each while maintaining all of their strengths – employing innovations uniquely adapted & customized for printing commercially at-scale in the digital age. The results are visually-stunning, impossibly durable, & surprisingly versatile digitally printed products – delivered at speeds today's world demands.
Direct-to-Garment (DTG) Printing
Direct-to-garment printing is an apparel printing technique that allows us to jet ink directly onto apparel using sophisticated printers & computers. Contrasted with screen-printing where each design requires a unique screen & individual colors, DTG allows us to print almost any design in a matter of minutes. This keeps businesses from having to buy & store hundreds or thousands of products at a time. Instead, orders are fulfilled as they come in & shipped directly to customers.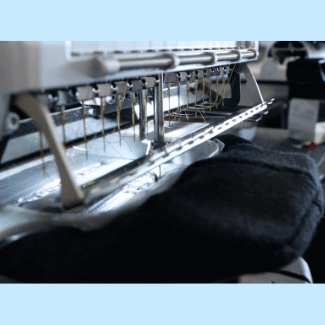 Embroidery
Embroidery is a technique for decorating garments using a needle to stitch thread into a design. While embroidery has some practical design limitations (like colors – we carry 16 standard) since it requires thread to be physically stitched into fabric, it has the longest life-span of all our DTG methods. When you upload a design, our computers digitally translate the file into a format that can be embroidered. Within minutes you can have a custom embroidered  hat, bag, or apparel literally with your name on it!
Dye Sublimation
Dye-sublimation printing is a digital printing technique that uses heat to transfer dye onto materials such as a plastic, card, paper, or fabric. We use dye-sublimation for many of our products, including blankets, face masks, drink-ware, sandals, & a whole host of other items. Dye sublimation prints can among the most vivid & clear when it comes to print-on-demand products.