Back to Posts
Mastering Print On Demand Personalization with Zakeke's Product Customizer
[This post is the first in our Partner Series exploring useful 3rd party CustomCat integrations you can use to improve and expand how you sell. Disclaimer: this post includes affiliate links.] 
Written by the team at Zakeke.com
—
In today's competitive e-commerce landscape, product customization is essential, especially in the realm of print on demand. Consumers crave personalized products, and merchants must meet this demand to stay relevant and match competitors' strategies.
Wondering how to offer Product Customization? Integrating CustomCat, our POD service for online merchants, with Zakeke's Visual Product Customizer simplifies this process, providing businesses with an easy, efficient tool to offer real-time product personalization, keeping them on-trend and in tune with customer desires.
Let's dive in and know more!
Introduction to Print on Demand (POD)
Print on Demand (POD) has revolutionized the world of e-commerce and the way businesses operate, offering a cost-effective solution for creating custom printed products, eliminating the need for inventory management while providing businesses with the flexibility to offer a wide range of custom printed products without substantial upfront investments.
This approach allows businesses to print individual products as they are ordered, offering a myriad of opportunities for entrepreneurs, designers, and e-commerce platforms to tap into the growing demand for personalized merchandise.
In the world of POD, personalization and flexibility is a critical element that can set a business apart. It's not just about printing on demand; it's about customizing those prints to meet the unique preferences and requirements of your customers, following precise rules based on printing methods and quality.
Achieving mastery in Print On Demand personalization is the key to success in this ever-evolving industry.
The Importance of Personalization
Personalization is at the heart of modern e-commerce. Today's consumers seek products that reflect their individuality and resonate with their preferences.
Personalized products have a strong emotional appeal and create a deeper connection with customers. When customers can design their own products, they feel a sense of ownership, which leads to higher customer satisfaction and loyalty.
Whether it's a custom-printed T-shirt, a personalized phone case, or a one-of-a-kind coffee mug, the ability to tailor products to individual tastes is a powerful market advantage.
Product Personalization isn't limited to just adding a name to a product. It includes choosing from a wide array of design options, colors, materials and styles. As an e-commerce business, it's essential to understand that personalization isn't just a trend; it's a fundamental customer expectation.
Offering personalized products can lead to increased customer engagement, higher conversion rates, and greater customer loyalty.
Benefits of Merging Print On Demand and Product Customization
By offering personalized print on demand products, businesses can cater to the growing demand for customized products while maintaining the efficiency and flexibility of the POD model.
Merging print on demand and product customization presents several advantages for businesses:
Reduced Overheads: One of the primary benefits is the elimination of inventory costs. Traditional retail models often require businesses to invest in bulk stock, which can be financially burdensome. With POD, products are created as orders come in, reducing storage and financial risks.
Flexible Product Range: The combination of POD and customization offers businesses the flexibility to offer a vast range of products without the need for extensive warehousing. From clothing to home décor and promotional items, the possibilities are endless.
Low Risk: The print on demand and customization model minimizes financial risks. Businesses can experiment with different designs, products, and markets without committing to large quantities.
Sustainability: POD minimizes waste since products are only produced when there's demand, reducing the environmental impact.
Increased customer satisfaction: Customized products allow customers to express their personal style and create products that are unique to them. This leads to higher customer satisfaction and a stronger emotional connection with the brand.
Expanded market reach: Personalization enables businesses to tap into niche markets and cater to specific customer preferences. By allowing customers to create their own designs, businesses can attract a wider range of customers and increase their market share.
The most straightforward way for mastering POD personalization is through the integration of CustomCat and Zakeke. With a simple Plug & Play setup, user-friendly interface, and limitless customization possibilities, why wait any longer?
Mastering POD Customization with CustomCat and Zakeke
While there are various tools and platforms available for print on demand personalization, Zakeke stands out as a versatile and user-friendly option for businesses using CustomCat that are looking to offer customizable products to their customers.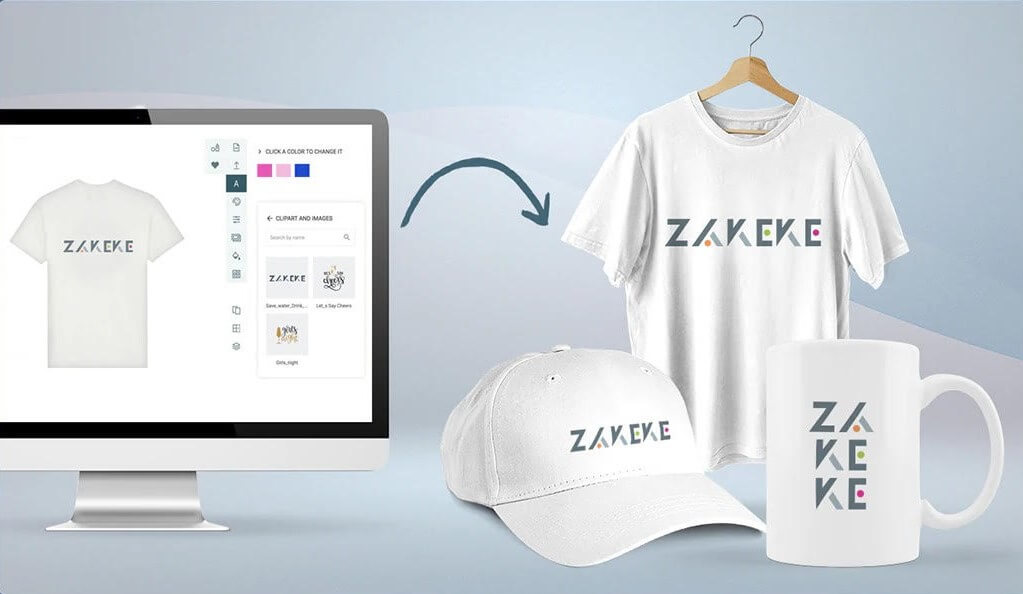 Zakeke is not just about printing; it's about empowering businesses to provide a seamless and engaging customization experience. Why?
Ease of Use: Zakeke's intuitive interface allows businesses to effortlessly integrate product customization into their websites. With user-friendly design tools, customers can easily personalize their products.
Endless Customization Possibilities: Zakeke offers a vast array of customization options, from adding text and images to choosing colors, fonts, and sizes to large prints personalization, custom print ready files for Sublimation and Engraving effects. This level of flexibility ensures that customers can create products that truly represent their unique style and preferences.
Scalability: Whether you're a small business or an enterprise-level e-commerce platform, Zakeke can accommodate your needs. It's scalable, making it suitable for businesses of all sizes.
Integration: Zakeke seamlessly integrates with various e-commerce platforms and offers API access, making it a valuable tool for businesses looking to enhance their product customization capabilities, no matter where their catalog is based.
CustomCat and Zakeke: How It Works
Integrating CustomCat with Zakeke is your straightforward path to offering personalized POD products.
To start selling custom items with CustomCat and Zakeke, here's a quick step-by-step guide:
Install Zakeke's app in your e-commerce store;
Integrate Zakeke and CustomCat (check the guide) and launch the app;
Choose a product from CustomCat catalog to make customizable with Zakeke;
Set your customization options for the product and save;
The new product is now in your store, ready for customers to personalize by hitting the button "CUSTOMIZE";
CustomCat handles fulfillment and shipping when orders come in.
Once integrated Zakeke and CustomCat, you can also:
Display products in 3D, showing a real-time 3D previews of custom products;
Set dynamic customization rules and add mark-up prices;
Offer pre-designed templates to make the customization experience easier.
Easy setup for sellers, simple use for buyers, right?
Conclusion
In conclusion, mastering print on demand personalization is a pivotal step in thriving in the e-commerce landscape. As the demand for unique and personalized products continues to grow, businesses need to leverage the benefits of print on demand and product customization.
Zakeke's Visual Product Customizer integration with CustomCat offers a powerful, versatile and cost-saving solution that enables businesses to meet these demands while providing a seamless and engaging customer experience.
By focusing on personalization and selecting the right tools, businesses can navigate the challenges of print on demand and create a successful and sustainable e-commerce venture.
Ready to try Zakeke with CustomCat? Click HERE to create your Zakeke account & get started!