Back to Posts
How to Know When You're Ready to Take Your Ecommerce Business Full-Time
When you're running an ecommerce business, you know time is invaluable. If you could just get a handle on more hours in the day, you could scale into the success you've been dreaming about. 
The answer isn't always squeezing out more time in the margins of your day, but making some hard decisions about where to reallocate the time you already have. Is it time to go full-time? Here's how to decide when to take your ecommerce business center stage.
You've Got a Handle on Fulfillment
First & foremost, your ecommerce business needs a rock-solid fulfillment process to get orders to customers reliably & on time. Promising your customers two-day shipping only to struggle with inventory, apply your designs, & send everything out is a recipe for disaster & poor customer service.
Instead of going it alone or spending money you don't have on overhead, you can outsource the process instead. CustomCat helps fuel your online store & serves as a behind-the-scenes arm for your business. Upload your designs to your CustomCat library, apply them to your favorite products, & grab one of our easy integrations for your online store. 
Whether you receive one order or 100, we'll get to work producing & fulfilling it to ship out on your business's behalf. There's no inventory to carry or hassles to deal with, so you can focus on growing your business instead of minding all the fulfillment details.
Get started with CustomCat here.
Your Revenue is Reliable
An ecommerce entrepreneur's income is never entirely predictable, but it should still show signs of reliability. If you know your revenue rarely dips below $5,000 a month, then you have a good idea of the minimum to expect from your business. But if your income is a few hundred dollars one month & thousands the next with no reliable pattern to show for it, you're not ready for full-time just yet.
Work on creating consistent revenue streams within your business & look for patterns. If your best-selling months are in the third quarter of the year, double down on your efforts & see how far you can stretch your revenue throughout the rest of the year. You may be able to see a more predictable revenue pattern over a longer period of time & budget accordingly before making the leap to full-time.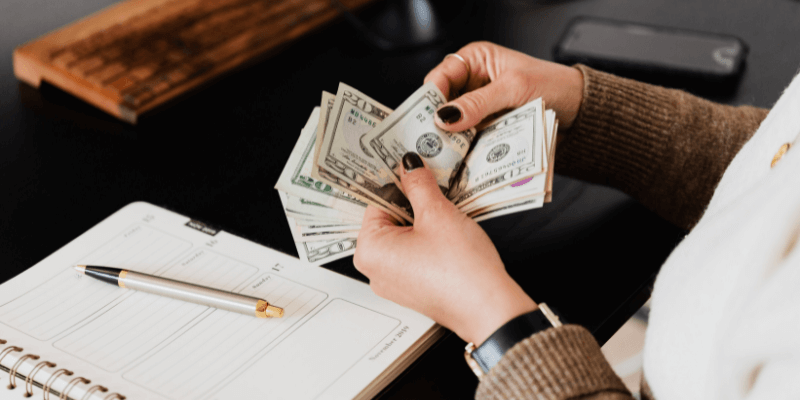 You Have a Cash Cushion
Speaking of budgets, a cash cushion is everything when you're running an ecommerce business. It's tempting to think you can wing it or squeak by on whatever revenue you happen to make, but being a business owner is unpredictable. Don't leave yourself vulnerable to a financial crisis because your bank account ran dry one month when a cash cushion could have kept you afloat.
Build up a healthy emergency fund for your personal finances for three to six months, as well as a cushion for your business. It's wise to stack some cash within your business checking or savings account that you can draw a paycheck from should you hit a few slow months in your online store.
Your Marketing Strategy Shows Results
What's going on with your ecommerce marketing strategy? Are you killing it with Instagram & Facebook ads? Does TikTok  generate consistent results for your online business? Any marketing strategy is going to see ebbs & flows, but you should still see results. Once you have a robust marketing list, whether via email or social media followers, & see results from your efforts, you know you can drum up business when you really need it.
You Have a Proven Business Model
One or two profitable months in ecommerce aren't enough to go full-time. You need to see consistent results over six months to a year to know you have a proven business model. That model isn't limited to your revenue each month. It should also include a deep understanding of your target market, a reliable inventory & fulfillment channel, a results-driven marketing strategy, & sound financial statements, to name a few things.
Make sure you know your business model inside & out & have tested it several times. From designing new products to bookkeeping, you want to know how your business works & whether it's financially viable.
There's Nothing Else You Possibly Want to Do in Life
Being an online entrepreneur isn't something you dabble in & expect full-time income for part-time results. To scale up, you need to go all in & focus exclusively on your online business. If your heart isn't really in it, keep it as a side hustle & enjoy the extra income. But if you're passionate about your business & can't possibly imagine doing anything else, then go all in as soon as you can.
Your Day Job Is Holding You Back
At some point, a day job becomes more of a nuisance when running an ecommerce side hustle than it offers stability. If you're out of hours in the day & can clearly see you could scale with more time & resources, it could be the perfect time to step back. 
You can always switch things up & take on a part-time job while focusing on your ecommerce business on a larger scale. Eventually, the goal is to step away from your job altogether & focus on building a business.
Sometimes making the switch from dabbling ecommerce entrepreneur to full-time business owner is about temperament. You may be the kind of calculated risk-taker who dives right in & doesn't let anything stop you from success. Or you may be more motivated by a calm & calculated approach where all the details are accounted for before taking the leap. There's no right or wrong answer, but it is important to set clear goals & give yourself milestones to eventually take your ecommerce business full-time.
How did you know when you were ready to take on your ecommerce business full-time? Let us know by leaving a comment below!