Back to Posts
10 Valentine's Day Marketing Ideas for Apparel Store
It doesn't matter if your customers are in a fully-committed relationship or flying solo – everyone deserves a little extra TLC on this fun, chocolate-covered, teddy bear, and corny graphic tee day.
In honor of love, we got something special for you!
Make yourself a hot cup of your favorite beverage, get situated in front of your computer, and get ready for a wild ride – we got much work to do!
Here are CustomCat's Top 10 Valentine's Day Marketing Ideas to spread some TLC to as many hearts across the globe as it is humanly possible.
Valentine's Day is one of the most important retail events of the year, according to 2018 Online Peak Seasons Report, Valentine's Day, Mother's Day, back-to-school season, Halloween, Christmas, and Hanukkah holidays produce the most online sales.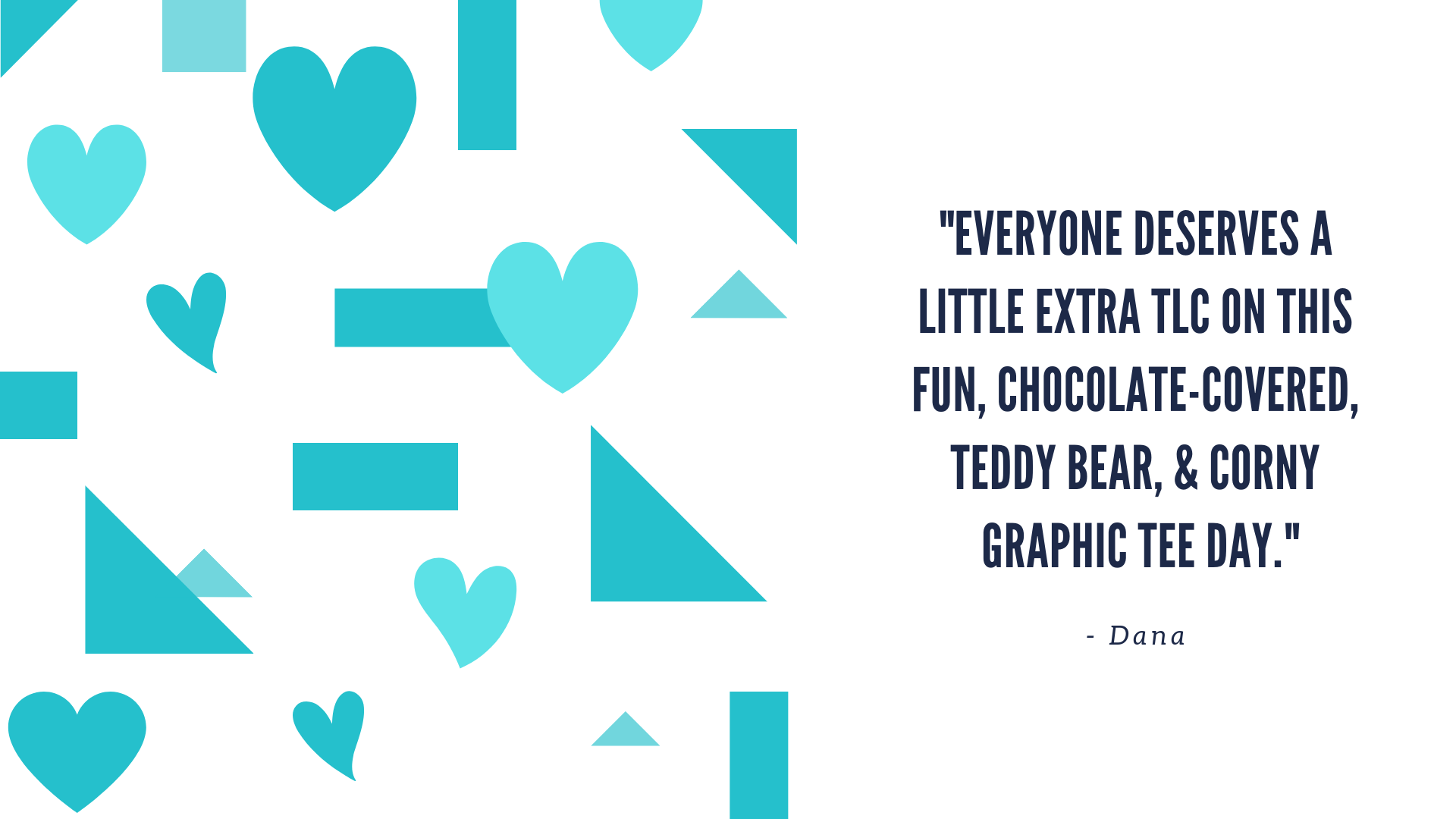 Add Love Charm To Your Logo Or Website
Despite all Valentine's Day hype, some people manage to forget about it.
Increase your selling chances – help your audience get into the spirit of love by updating your logo or website. Add appropriate romantic flair.
Pro Tip: Don't deviate from your original logo or website design too much – you want your audience to recognize your brand easily. Confusion hurts sales!
Think About Non-Relationship Marketing

Long are the days when Valentine's Day was about people in romantic relationships.
In our modernized world, people treat Valentine's Day as a day to appreciate their pets, friends, coworkers, and classmates.
Focus your marketing efforts on single people just as equally as those who are in relationships.
Create Valentine's Day Gift Guide

Your audience is most likely always on the move.
They will appreciate the time and effort you put into creating Valentine's Day Gift Guides to make it easier for them to view the products that they are the most interested in buying. 
There are different ways you can approach creating gift guides.
Gift Guide Themes
Budget: Splurge Guide, Strict Budget List Guide, Under $_ Guide
Niche: Niche guides usually convert better than general guides because they are targeting individual needs. "For The Adventurer," "Festival Junkie," "Gifts For The Life Of The Party," and more.
Newest Arrivals: "The Hottest Panda Tees on the Market"
Combination: Combining price & niche can yield higher earning than gift guides that are too general.
You can publish a gift guide on your page, in your blog, in an email, on social media, or the combination of all three.
We suggest getting your gift guide in front of as many eyes as possible to generate higher revenue.
Send Electronic Love Letter
"Americans are looking forward to pampering and indulging their loved ones with flowers, candy, dinner, and all of the other Valentine's Day stops," NRF President and CEO Matthew Shay said.
According to Hallmark, Valentine's Day is the second-largest holiday for giving greeting cards. You can be a part of giving too.
Send your loyal customers an electronic gift card that contains a unique promo code to apply during checkout. These should be sent out weeks in advance. 
Order Guidelines
Shipping should be promoted within your marketing strategy, always. Here are CustomCat's Valentine's Day Shipping Deadlines. 
Higher Revenues from Cross-Sells & Up-sells

According to Forbes, "The typical customer buying journey is no longer linear – they switch between website, drift to social media for reviews and promo codes, before returning to your website and making a purchase through another device."
Your store is likely to have a collection of pair-able items that make them a perfect candidate for cross-sells and up-sells.
Put together sets of products that customers can buy for a lesser amount than if purchased separately.
This tactic will help increase your store's average order value and therefore increase the store's overall revenue!
Mobile Shopping Takes Over The World

Concentrate your efforts into mobile web optimization and mobile app creation.
When you are starting, mobile web optimization is an excellent place to start.
Established brands can think about app development to adapt to a fast-paced, ever-changing industry, and the needs of customers.
According to Criteo.com, "Shoppers in the Americas are browsing and buying across all environments and more active on mobile than ever."
Brace yourself because 2020 is shaping up to be the year of mobile browsing and the most critical year of mobile apps.
"We saw an increase in the share of transactions completed on smartphones in the Americas with a 21% increase since Q2 2017." (Criteo, Americas, Q1, 2018).
Proposal Season

After all, this holiday is about romance, that's to say Valentine's Day wouldn't be complete without lovey-dovey marriage proposals.
The most engagements happen between November to January. However, Valentine's is a day of love, and there are millions of proposals happening each year on this day.
Customers Are Brand Ambassadors
Encourage customers to share pictures of your artwork on social media to get your brand in front of other audiences.
Pay them to share pictures or videos of themselves, friends, and loved ones enjoying your artwork in style.
Come up with contests to provide a monetary value for your customers and secure the idea of sharing. In a theme of marriage, host a "Best Valentine's Day Proposal" or "Best Dressed Pet" to generate fun, creative, and competitive environment.
Appeal To Valentine's Day Haters

Not everyone is on board with chocolate and teddy bears. The thought of Valentine's Day can sometimes make people sick to their stomachs.
Some may just not be that into it. That's okay!
Be ready to give anti-Valentine's Day customers another option. Create an anti-Valentine gift guide to capture their attention.
Good luck and prosperous Happy New Year!