Back to Posts
How To Use Pinterest to Grow Your Ecommerce Business
Whether you like it or not, it's time to up your Pinterest game. Why is Pinterest so important for e-commerce? Pinterest is the most effective platform to scale your business. It surpasses Facebook and Instagram all-around.
Pinterest is used for all kinds of reasons. Over 300 million people use Pinterest every month to shop, get inspired, plan trips, and so on.
84% of Pinterest users use this social media platform to make a purchase decision.
Top Pinterest trends include anything from fashion to travel, making this platform very diverse.
Pinterest Uses
Aside from browsing the latest workouts and diets, people come to Pinterest to buy.
If someone wants to buy a Blanket, they come to Pinterest for inspiration. They can either pin the inspiration or click the link to access your page to make a purchase.
How To Set Up a Pinterest Account For Your Biz
Go to Pinterest.com.

2. Enter your email address and password.
3. Then click Create account.
4. Pick your language and country.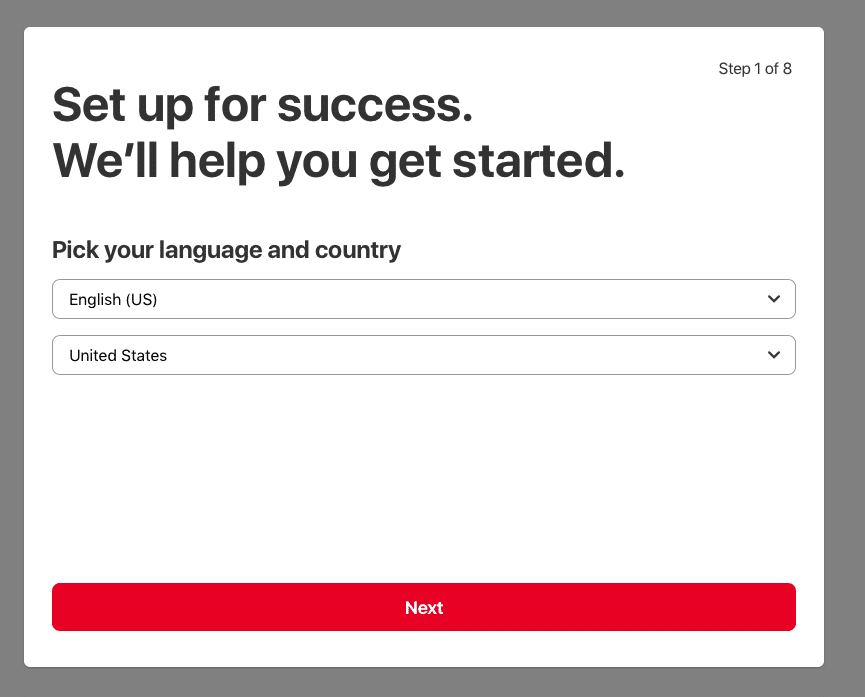 5. Add your business name, and this step is mandatory.
6. Choose the type of business account you intend to run. For e-commerce purposes, choose Online Retail or Market Place (e.g., Shopify store, Etsy shop, etc.). 


7. Link to your website, this step is not mandatory, but we highly recommend connecting your website to Pinterest ASAP.


8. Connect your other social media accounts to Pinterest.


9. This next step is asking if you ever plan to run ads on Pinterest. The answer should be ABSOLUTELY.


10.  Fill out contact information if you want to be reached out by Pinterest staff.


10. Choose a topic that represents your brand the best. If you plan to sell Canvas, you can go with Home Decor and Art. The topic entirely depends on your niche.


11. Do you want a quick way of accessing Pinterest? Get your handy browser button.


That's it! You're done with your set up. Create boards and start pinning.
Best Pinterest Practices
Make sure your Search Privacy isn't checked
The next logical step is to make sure your Search Privacy isn't checked. Why?
Search engines like Google, Bing, and Yahoo may show your profile or boards in their search results. If you don't want to appear in search results, you can edit your settings by turning on Search Privacy. 
Go to your Account Setting > Turn off Search Privacy. If you want to keep your Pinterest account private, check the box – a tag will be added to your pages to let search engines know not to include your boards in search results.
Read Pinterest 100 Trends
Every year the Pinterest team goes above and beyond to present the most trending searches for the new year.
Here's an example of what you can expect. Subscribe to stay in the loop for years to come.

Create Pinterest Board Covers
Having a cohesive board is important to your brand image. Whether it's a template or a pattern, everything should look beautiful and organized.
The best way to do so is to create a Pinterest board covers. Use Canva.com as a tool to create 600 x 600 pixels images to boost your Pinterest branding.
How to change a board cover: 
1. Click the pencil icon.


2. Click on Change.

Create Theme Boards
Organize your products by themes.
Holidays (Christmas, New Years, Valentine's Day, etc.)
Types of products (T-Shirts, Tank Tops, Polos, etc.)
Seasonal Products (Spring, Summer, Fall, and Winter)
Items of a certain price, size, or color
Gender
Promotional/On Sale
Location-specific
Best-selling products
Gift Ideas
Customer Reviews
Blog Posts
Add Share Pins to Your Webiste
We live in a world where social sharing is a reality. Add social media buttons to all of your product pages, with that; customers can pin and share products they like with family and friends.
Share pins not only increase your exposure, but it gives you a better idea of what products your audience is most interested in.
If you use WordPress, you can easily download social media plugins that automatically add to all your product pages.


With Shopify, you can add a Social Media Sharing Buttons for ONLY for $9.99/mo.


Don't forget to include CTA with your social media sharing buttons. Something along these lines will do: "Not ready to buy? Click the button to save it on Pinterest."
Write SEO Optimized Descriptions
Start with keyword research by simply using the Search bar at the top to see what people are searching for.


For this article, we'll use Print On Demand as a keyword. With Print On Demand keyword, you can see relevant keywords such as Business, Companies, T-shirts, Spoonflower, and more. You can use these keywords to come up with long-tail keywords to use in your pin descriptions, board titles, and design inspiration.


When you compiled a list of keywords that you want to use, incorporate them into your business strategy by adding them to:
Pin Descriptions
Pin Titles
Board Titles
Pinterest Name
Profile Description
Pins do better if keywords are mentioned both in the Board Titles and Pin Descriptions. Keep in mind that Pinterest is not Instagram, with that said, do not overpopulate your descriptions with random keywords – quality over quantity.
Use a 50-250 word description to summarize your Pins.
For clothing-related items, your descriptions should include the type of clothing and the season of use.
97% of searches on Pinterest are unbranded, so your audience is probably searching for upper-funnel search terms. Think "spring style" or "pink jeans" rather than a certain brand or product name.
Include Image Related Keywords
On Pinterest, you want to use specific keywords that describe what you sell for the SEO to help bring people to your content. Add keywords to your Pins right away, you can put keywords into your content later, but that won't improve your SEO. Newer Pins with similar hashtags will appear at the top of the list.
Enable Rich Pins
Rich Pins add additional details to your pins from your website. There are four different types of Rich Pins: product, articles, app, and recipe. For any retailer, having product Pins is an absolute must. Rich Pin products include all the important information that a customer wants to see (pricing, availability, etc.) to make a purchase.
How to enable rich Pins on WordPress :
1. Add Yoast SEO Plugin.
2. Activate it.
3. Then go to the Social tab in its settings, then to the Facebook tab.
4. Enable Open Graph metadata.


5. Validate Your Rich Pins.
6. Enter a URL from your site.
7. Validate.
8. You should get something along these lines: "Congratulations! Your Rich Pins are approved and on Pinterest."
9. Click apply now.
It can take a couple of days to hear from Pinterest with your approval.
Once approved, it will likely take 2–3 days for your standard Pins to turn into Rich Pins.

Add Pinterest to your Email Strategy
Similarly to sharing buttons on your product pages, you should add a Pinterest button to your email strategy too. Email is another way to increase your exposure. You can include the Pinterest icon in the email footer next to your other social media icons.

Schedule Your Pins
One of the most popular scheduling platforms for Pinterest is Tailwind. It's easy to get consumed with browsing Pinterest for hours. That's why every time you log into Pinterest, you should have a plan in place. It can be as simple as pinning 2 new posts to all boards, commenting on 5-10 pins, and following a new board. Tailwind schedules pins at optimal times to best suit your audience's needs.
Or you can use the Pinterest manual scheduling tool too.

Leverage Pinterest Analytics
It's easy to get preoccupied with all the prettiness that Pinterest has to offer, but without results, it's relatively pointless. Pinterest Analytics consists of impressions, saves, and clicks.
Pins with strong impressions are getting seen by a lot of people. But if the other two numbers are low, it's not driving them to take action.
Pins with high saves are getting re-pinned by your audience. But if the number of clicks is low, it's not driving anyone to your website where you can convert your Pinterest audience to customers.
Pins with high clicks are delivering the goods. They're getting people to your website, but if they're not getting impressions, you're missing out on web traffic.
Create Valuable Content
No one goes on Pinterest to view boring content. People want to see bright, airy, well-lit, and high-resolution images. Pinterest recommends testing different targeting tactics to see what works best for your business. 


Eye-catching image is a must – Pinterest recommends a 2:3 aspect ration (ex.1000 x 1500 pixels).
Include your brand logo – Place a logo on every image, but do not put the logo in the lower right corner. That corner is designated and gets populated by Pinterest's product icons.


Help people visualize your product in their lives – Pins that showed someone using a product or service were 67% more likely to drive offline sales.


Make your product the focal point – Pinterest research says, campaigns with clear product placement were 20% more likely to drive offline sales life.


Use seasonal content to your advantage – Highlight day-to-day life moments, Pins with seasonal content had a 22% higher online sales lift.


Create a consistent brand experience – Pins that went to landing pages with similar imagery had a 13% higher online sales.


If you are still unsure about using Pinterest to boost your e-commerce business. Go ahead, and now it's the right time to give a Pinterest a shot. For the best results, pin consistently and stay relevant to your niche. Good luck! Let us know in the comments what takeaways you took from this post.

PERSONALIZATION AVALIABLE